Over the last year, I've been working on a book with Access experts and MVPs Teresa Hennig, George Hepworth and Doug Yudovich, focused on practical examples and techniques for building powerful Access applications. The book covers both new web apps and new solutions to client solutions.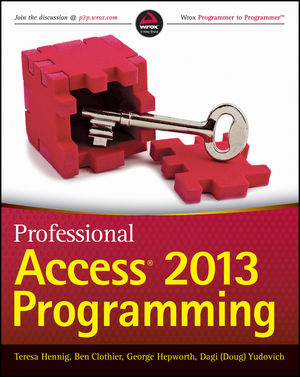 Here are few highlights that we hit on the book:
For web apps:
* Get up to speed with the new Access web app environment quickly
* Illustrate effective design patterns and techniques for easier developing
* Demonstrate how to integrate other apps or web services into your app such as Google Charts for KPI
* Illustrate how you can use Excel web apps to provide reporting
* Administer and secure the web app and the client files that links to it
For client apps:
* Managing and leveraging data macros effectively
* Making it easy to customize and run reports
* Using Google Maps and web services to offer additional functionaltiies
* Using SQL Server effectively with the client
For more information or to order a copy, please visit Wiley website.
The book also comes with several samples to help you get up to speed with the latest and greatest in Access development.
If you buy the book, please leave a comment on how it worked out for you. I truly hope you find it useful.
Evening with the Authors
Whether you've read the book or are thinking about purchasing the book and you have questions, we're going to have a question and answer session hosted by Juan Soto, where we will discuss the book and its materials. The evening will be held on Wednesday, August 28 at 7 PM CST. Please register by filling out the form and indicating you want to attend the author's event here.
On the day of the event please go to: https://join.me/accessexperts you can use your computer's microphone or use the conference call line to call in.
We hope to see you there!