Easy
Applies to MS Access Versions
Access 2000+
Overview:
Sometimes, when we create a full blown application, utility, or departmental tool, we only want to see the opening form pop up on the screen and leave the full MS Access application window at the bottom of the toolbar.
In this MS Access tutorial, we will show you how to open a Microsoft Access database so it appears minimized at the bottom of your screen, and all you see is the first form you declared as the opening form. You will now be able to double-click on the icon to only view the form and not MS Access.
This is easier to achieve than you may think, here are the simple steps:
1.1. Open the form you intend to use as the main form in design view. In the attached example database OpenAccessFormOnly.accdb, I have the same main menu form entitled frmMainMenu. Be sure to set the form property PopUp = True.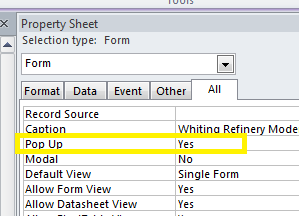 2. In the backstage view, open the Database Options window and choose the "Current Database" tab. In the "Display Form'' option, drop-down the list and select the form you intend to use as the startup form. In my example, I have selected the form frmMainMenu.
3. Click "OK" to close the database options dialog box.
4. You will see this message box appear

Click 'ok'.
5. Close the database.
6. Go to your desktop, right click in any blank area and choose 'New' then 'Shortcut'. Browse to the .accdb file you just created. In this example, I choose the OpenAccessFormOnly.accdb database.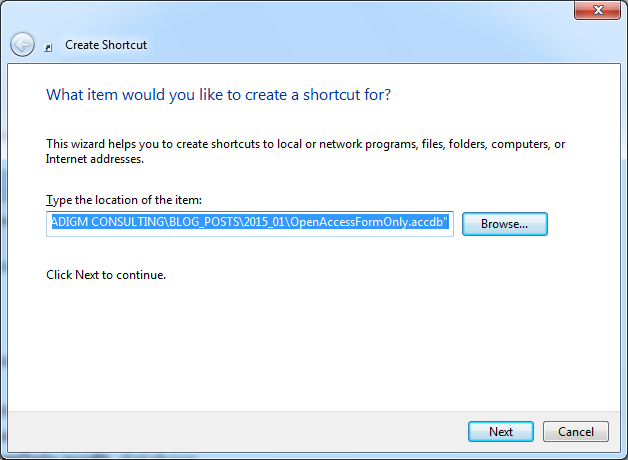 Then click 'next' and 'finish' if necessary, creating the icon on your desktop.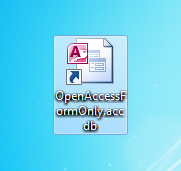 7. Right click on the shortcut you just created and choose "Properties."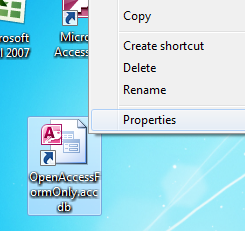 8. This second dialog appears as below. Choose the 'shortcut' tab and notice a drop-down option called 'Run'. Drop-down and choose 'Minimized' as shown below.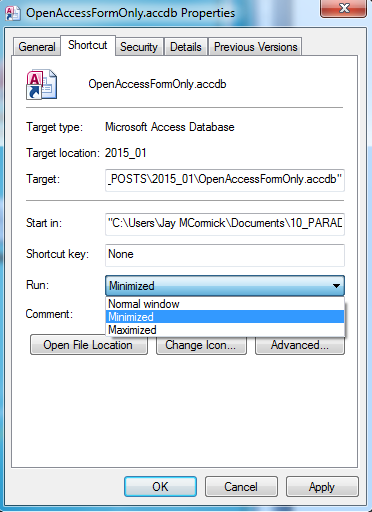 9. Click 'Apply' then click 'OK'.
10. Double-click your icon and voila! Now you'll ONLY see the main form appear, with Access minimized at the bottom of the screen.