Microsoft Access Seminars in Denmark and Spain
[EN] We are excited to announce two big events that we are honored to present to you all. This summer Juan Soto, Access MVP and President of IT Impact, will be touring Europe and presenting a one-day MS Access Seminar, Discover the Power of Your Data. It will be jam-packed with valuable information and training, taking place at the Microsoft Offices in Madrid, Spain and Hellerup, Denmark (just 25 min. outside of Copenhagen).
Both seminars include slightly different programs, but both will cover topics like Optimizing MS Access with SQL Server, MS Access Web Apps, and the current status of MS Access.
Click on the images for more information about each event, and please share it with your friends and colleagues who might be interested in attending. May and June are a perfect time to take a European vacation and step up your Access skills!
Denmark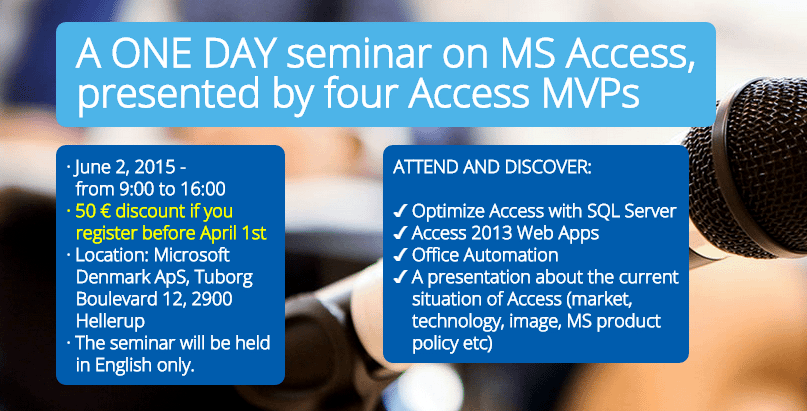 [ES] Estamos muy contentos de anunciar dos grandes eventos que nos sentimos honrados de presentar a ustedes. Este verano Juan Soto, Access MVP y Presidente de IT Impact, hará un tour de Europa y presentará un seminario de un sólo día de MS Access, Descubre el Poder de sus Datos. Será llena de valiosa información y formación de Access, y se realiza en los Oficinas de Microsoft en Madrid, España y Hellerup, Dinamarca (sólo 25 minutos de Copenhague).
Ambos seminarios incluyen programas ligeramente diferentes, pero ambos tratarán temas como optimización de MS Access con SQL Server, MS Access Aplicaciones y el estado actual de MS Access. En Dinamarca, todos los presentadores serán MS Access MVPs.
Haga clic en las imágenes para obtener más información acerca de cada evento y por favor compártela con tus amigos y colegas que puedan estar interesados en asistir. ¡Mayo y junio son meses perfectos para tomar unas vacaciones europeas y mejorar sus habilidades de Access!
España