Curious About the Latest Microsoft Access Features?
If you're on Office365 you have a choice in regards to how often you see new features, (some refer to these as rings):
Semi-Annual: You get new features every six months, we recommend this channel to all of our clients
Semi-Annual Targeted: Think of targeted as a preview of what users will see a month later. We recommend our client's IT department to be on this channel
Monthly and Monthly Targeted: You would get new features each month, this is the channel we use at IT Impact.
Office Insiders: The fast lane, living on the edge, playing with fire lane. Don't use this channel on your production machine!
Insiders on test machines only
Office365 users automatically receive 5 licenses they can install on a production PC, development, insider's iPad, etc. Since you can set the channel on individual PCs I would recommend either creating a virtual machine using Hyper-V or using an older PC to test with Insider's.
How to switch to Insiders
To find out which channel you are on take a look under the Account option in the File menu: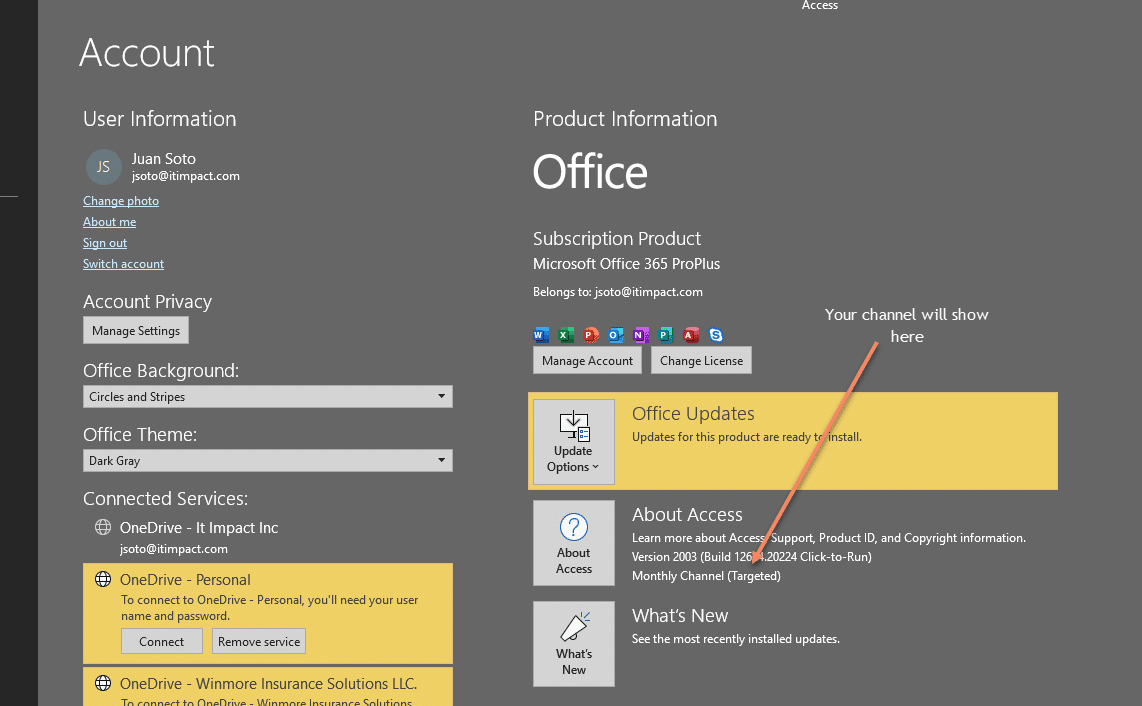 If you don't see a way to change to Insider's follow these steps: (I used this article to help me in getting this to work, thanks to Access MVP Maria Barnes for the link!)
First, get the policy files needed here.
Unzip the files and copy the contents from the admx folder to C:\Windows\PolicyDefinitions
Copy all the adml files from the zip file in the en-US folder to C:\Windows\PolicyDefinitions
Launch the Edit Group Policy tool in Windows.
Double click on the "Show the option for Office Insider" and click on enable, see the image here for guidance.
If you do everything correct until this point you will see the following Window where you can select "Enabled":
Close the policy editor and open Microsoft Access, click on the file menu and Account and you will see the following now:
When you click on the Office Insider button you still need to pick the "Insider" channel and tick off the two check boxes:
Finally, if you did everything correct, you will be on insiders!