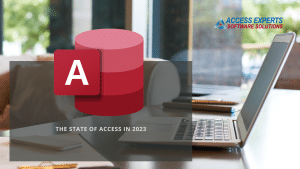 The future of Microsoft Access in 2023? 
Earlier this year I was in Redmond, Washington, to participate in the MVP Summit, where I heard a lot about AI and Office and met with the Access team (it's one of the best benefits to being an Access MVP). Although I can't share much of what we discussed, I'd like to update you on my yearly State of Microsoft Access post. 
The future of Access is consistency 
Innovation is not the strong suit of this product; it is considered a mature offering of the Office suite and is treated as such. We get bug fixes and minor updates yearly, with big updates every few years, if any. To be fair, there is a lot of great stuff coming down the pipeline, such as the SQL Monaco Editor, but I'm not holding out my breath to see any of the several innovative ideas I've been hearing about for quite a while come to the product. 
Access is not going away 
Just…stop…asking…me… It's here to stay; if you "heard" something, it's a rumor and not true. As long as we have Excel and Word, we will have Access. You don't hear anyone saying Excel is going away, do you? 
Here is my wish list 
One can only dream, and so I present my wish list for Microsoft Access for our mutual enjoyment: 
Native SQL Connector: allows both developers and power users to use one connection for everything related to SQL Server, makes it easy to program connection settings, and is a robust connector.

 

Overhaul of the IDE: To be fair, the Access team does not have any responsibility in this area, but the main interface to program in Access has not changed much in my 12 years as an MVP; it really does need an extensive overhaul.

 

Intellisense in our code: It would be wonderful if we could use a table name followed by a dot to bring up any field in our code.

 

Leverage the wide array of connectors in Dataverse. We continue to have our own connectors instead of figuring out how to use the connectors already in Dataverse. I understand why this is the case, but I believe it's an engineering problem worth solving.?

 
I wish I had great news to share, but at least we see some improvements in the product coming down the pike. What are some favorite features that you would love to see in Access?